How Does SERVPRO Clean Surfaces with Mold Damage in Mount Vernon Properties
1/4/2022 (Permalink)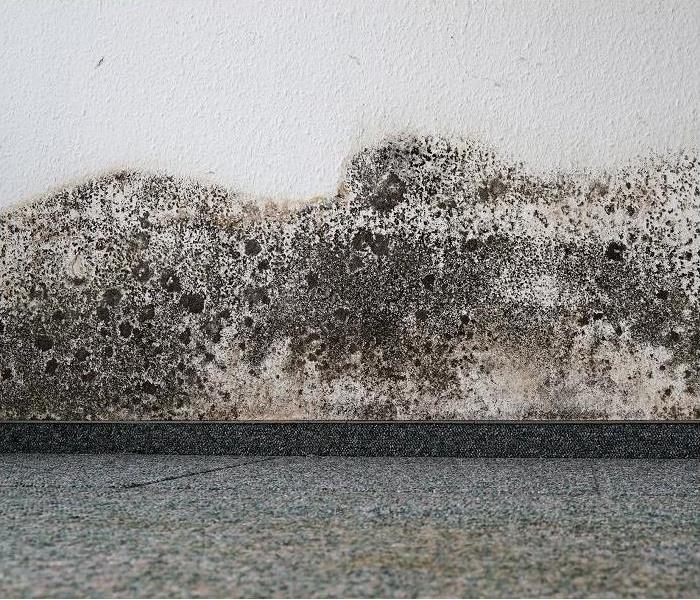 SERVPRO goes to the root cause of your mold infestation so that we can properly remediate the issue.
SERVPRO Technicians Treat Mount Vernon Structures Requiring Professional Mold Remediation
It is vital to clean surfaces during mold remediation in Mount Vernon to inhibit the mold from returning. The key to success is that the article and surface getting cleaned needs to withstand the application. Porous objects such as sheetrock generally have a poor outcome for cleaning if mold colonies are present on the surface.
SERVPRO provides professional mold damage mitigation in Mount Vernon residential properties. When mold is suspected but not visible through visual inspections, the technicians turn to their advanced equipment. Infrared cameras are beneficial for finding collections of moisture behind walls that can also harbor mold colonies. While the cameras do not detect moisture, they can show blue areas within wall cavities that are a valuable indication of collections of humidity. Sheetrock with mold typically requires removal as it becomes deteriorated from the colonies on it and the constant exposure to moisture.
Another issue the technicians tackle during a remediation service is determining the root cause of the mold infestation. SERVPRO's Institute of Inspection Cleaning and Restoration (IICRC) certified techs carefully inspect the property to determine what allows the increased air moisture levels to sustain the mold. Frequently seen problems that can lead to an infestation include slow leaks, poor ventilation, and appliance malfunctions.
Common Mold Removal Methods
The technicians use different methods for getting rid of the dried matter left behind after drying existing mold colonies.
Manual scraping by hand
Soda or ice blasting
Sponge blasting for surfaces that cannot tolerate removal by other methods
SERVPRO of Skagit County at (360) 873-8744 stands ready to assist Mount Vernon properties with any size or type of mold damage infestation. The trained technicians use professional methods to treat and clean the house to make it "Like it never even happened."