Should I Invite A Professional to Remove Water Behind A Mount Vernon Bathtub?
4/7/2020 (Permalink)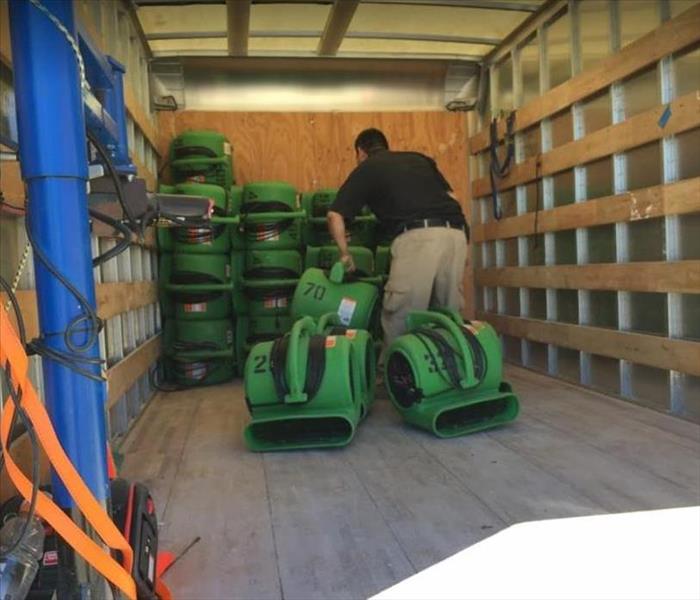 Each of our vehicles is fully stocked with water restoration equipment. Call us for any of your water damage restoration needs.
SERVPRO Can Help Evaluate Situations that necessitate Water Removal from Your Mount Vernon Home
In an area like the bathroom where water use is constant, you might not expect water damage since engineers construct the surfaces to contain or withstand high moisture levels. Even when you notice some signs of damage, you might dismiss them as minor and thus procrastinate on finding a solution. Delaying worsens the situation since it lengthens the period of intrusion.
What problems develop when such intrusion goes unabated?
You should not postpone water removal from your Mount Vernon home for any reason. After all, the cost of confirming whether there is hidden intrusion is not as high as remediating a problem, after waiting until the signs are apparent. A simple intrusion can lead to:
The caulk around the bathtub falling off
Damage to wood studs and frames
Common wall damage
What steps does SERVPRO take for effective removal?
Water intrusion in hidden areas presents many challenges. Unlike water spilled in the open, which only requires extraction equipment, the hidden intrusion may require the demolition of the surrounding materials. Such demolition removes deteriorated materials or helps create access points for water extraction equipment.
Before starting the demolition, our SERVPRO technicians first confirm whether there is water in the bathroom wall cavity. We also confirm the moisture content in the wall materials determining whether to remove or save them through drying. We carry out such checks safely using sophisticated tools such as:
Thermal cameras
Borescopes
Moisture meters
Depending on the results, we can punch vent holes and use cavity-drying equipment for water removal. We can also demolish the entire area to access the water and replace all the materials destroyed by the intrusion.
A seemingly minor water intrusion can lead to complicated issues during restoration. Call SERVPRO of Skagit County at (360) 873-8744 to help. We're Faster To Any Size Disaster.
More about Mount Vernon.