How Can Homeowners Perform Storm Flood Damage Restoration in Anacortes?
12/13/2021 (Permalink)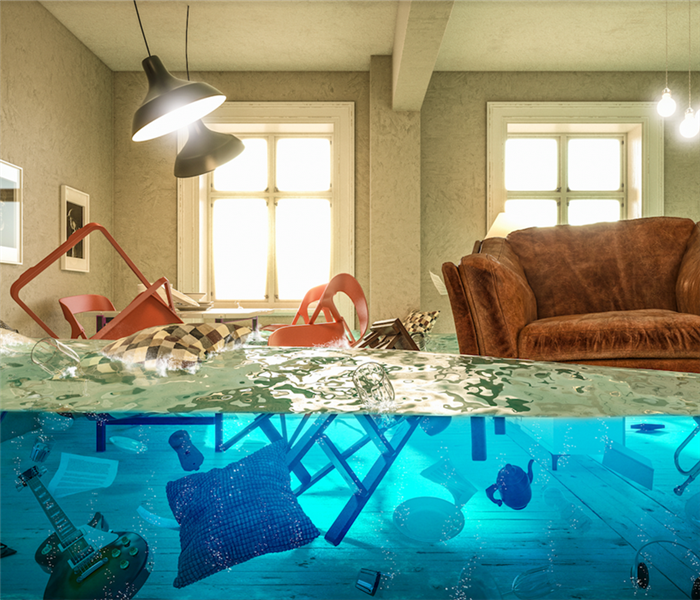 Dealing with flood damage after a storm can seem overwhelming. Contact SERVPRO for effective water removal and remediation services. Call 24/7.
They Can Hire SERVPRO to Help Them Handle Storm Flood Damage in Anacortes
A storm can leave you dealing with extensive flood damage in your home if standing water levels rise at an alarming rate. Floodwater can cause serious issues in your property, such as cupping and buckling of wood floors and drywall deterioration. As a leading storm and flood restoration company, SERVPRO can remove the water in your home, clean it up and dry it. You do not have to face the hazards of dealing with storm and flood damage on your own.
Our experienced technicians can perform storm flood damage restoration in your Anacortes residence quickly and cost-effectively. Our goal is to see you completely satisfied, and we work systematically to restore buildings to their normal condition. Our SERVPRO team makes the storm flood restoration process seamless by offering:
Free thorough assessments
Water removal using highly efficient equipment
Full-service cleaning to prevent microbial growth
Dehumidification
Floodwater is usually contaminated. Therefore, we protect ourselves by wearing protective gear like masks, gloves, and rubber boots. The presence of water in a house promotes and sustains microbial growth. The main steps in remediation or mitigation are removing contaminated materials and removing moisture. Our SERVPRO team concentrates on drying the structure quickly to minimize moisture levels. We can also apply antimicrobial products before starting the restoration process to ensure safety. We use suitable pumps to remove floodwater and anything that might be in it, like mud and sand. After removing the water, we clean the affected areas thoroughly.
Drying the affected structures and contents is another essential step in flood remediation. To dry the air, our SERVPRO team uses drying equipment such as air movers and dehumidifiers to control humidity levels. We also use the science of psychometry to monitor whether the drying process is working well. We expedite the drying process by managing psychometric conditions, namely temperature, humidity, and airflow.
To handle storm damage in your residence, call SERVPRO of Skagit County at (360) 873-8744. We're Faster To Any Size Disaster.