How Does Cleanup Work After a Flood?
5/12/2020 (Permalink)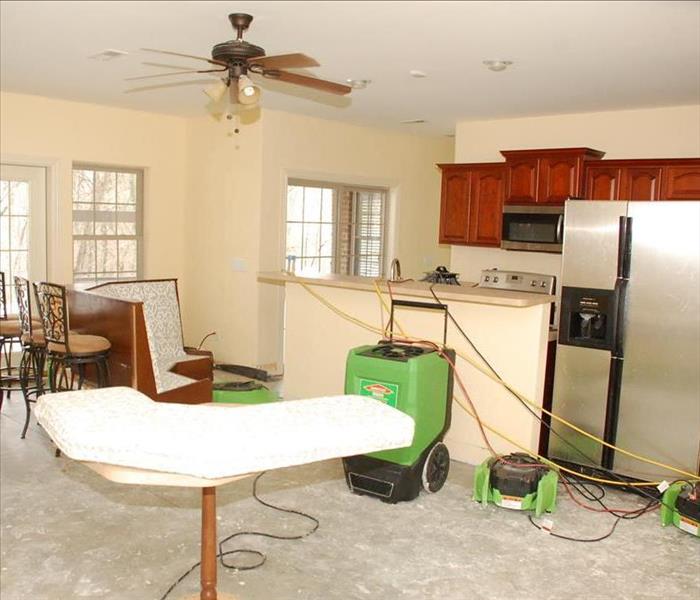 SERVPRO can mitigate your flood damaged home. No Mount Vernon home has to succumb to the struggles without any help.
After Flood Damage, You Can Trust SERVPRO to Restore Your Mount Vernon Home to Pre-Loss Condition
When your Mount Vernon house gets flooded, the water interacts with your belongings and building materials in a variety of ways. Your rugs become saturated as well as anything at the water level. This exposure means that careful measures must be taken to ensure that everything gets cleaned properly. SERVPRO has the techniques and training to address all aspects of your flooded interior adequately.
What Happens with My Contents During Cleanup?
Once we address your flood damage in Mount Vernon by extracting all of the standing water and removing any materials that have deteriorated, we begin cleaning the contents of your home. This is a challenging process, but our team has steps in place that allow us to address contamination, rusting, and other forms of degradation while working on salvaging whatever we can. Some of the steps that our skilled technicians use during the cleaning process include:
• Pre-treatment of any of the washable items. We sometimes use clean water on wet fabrics to work on removing mud and other debris.
• Separation of materials – salvageable vs. unsalvageable. Our team removes any items deemed unsalvageable and dispose of them so that we can decrease clutter and focus on items to be saved.
• Packout services, partial or complete. Often, cleaning salvageable contents in a designated area away from the flood zone expedites the restoration process.
We understand that each flood loss incident is unique. This is why we take the time to tailor a service plan to your needs. We take the time to assess every aspect of your home to ensure all moisture is adequately addressed and that full disinfection takes place. We get you back in your home and enjoying your daily routine, "Like it never even happened."
To deploy a flood damage mitigation crew to your property, call SERVPRO of Skagit County 24/7 for emergency service at (360) 873-8744.