What are the Three Primary Phases of Water Mitigation in Mount Vernon?
9/20/2020 (Permalink)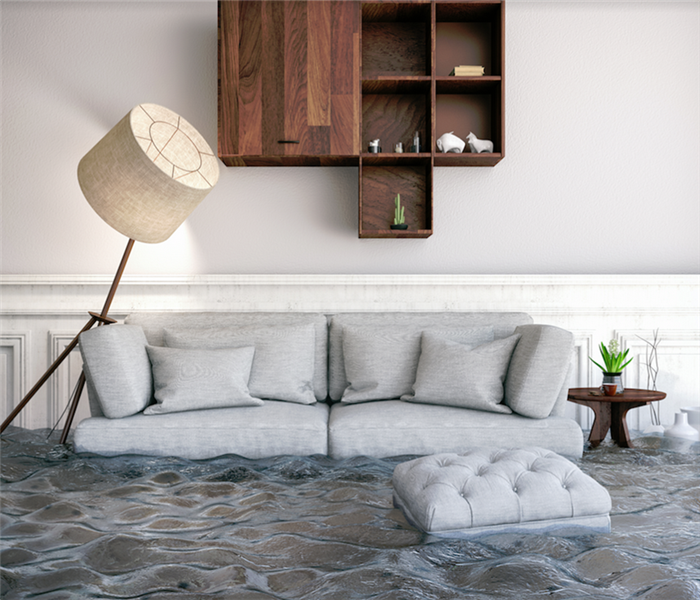 Water removal is essential to mitigating the situation after a flood. Contact TEAM SERVPRO immediately. We are available 24/7.
Preparing your Mount Vernon property for restoration and recovery after a disaster requires several initial steps.
After a water disaster of any kind, your Mount Vernon home can begin to absorb moisture and adversely react to these changing conditions. Even with a prompt reaction to the situation, the recovery of these events often demands the knowledge and experience of professional restoration technicians like our SERVPRO team. Because we stay prepared for these situations at all times, we can mobilize quickly even when emergencies occur after traditional operating hours. The initial actions taken to protect your property set the tone for the entire restoration process.
Water mitigation in Mount Vernon properties is a critical element to all restoration projects. These preliminary actions reduce the potential for the situation to get out of control and prevent more materials and areas of the house from becoming impacted by unexpected emergencies like pipe bursts, appliance failures, and leaking fixtures. Mitigation involves several individual actions working as part of a whole to protect the damaged property from further irreparable harm. Stages involved in these processes include:
Job Scoping
Water Removal
Repairs/Controlled Demolition
Is Job Scoping Necessary?

A pre-restoration evaluation of the property ensures that the right measures protect and restore an impacted home. Often this assessment occurs before physical mitigation begins, as this inspection catalogs several aspects of the work area. By determining specific data points and tracking the damage's progress, our SERVPRO professionals can better understand what must get done. There are several tools used and evaluated aspects of a water-damaged property, including:
Moisture Detection Tools – Determining the severity of the moisture and dampness damages to exposed surfaces, contents, and the open environment is critical. While extraction might have to happen first, evaluations with detection devices show pockets of moisture that must get addressed before microbial growth results.
Structural Integrity – Severe water damages can often quickly compromise structural elements throughout the residence. This can be evident when materials begin to sag or collapse entirely.
Pre-Existing Conditions – Not every concern we find during our inspection resulted from the water disaster, which can be vital in finding the most efficient approach for reaching preloss conditions.
Content Damage – Your personal belongings can often hold as much importance as the entire structure, meaning that we carefully inspect and evaluate these items' conditions for restorative actions that might be necessary.
Are Different Machines Necessary for Water Removal?

Extraction is one of the foundations of efficient water restoration for your Mount Vernon home, meaning that the most suitable machines must get selected based on the current conditions. While electric submersible pumps often play the most significant role with standing water without the threat of debris and solids, extenuating circumstances could make other extractors in our inventory more suitable options instead. The position of the damaged areas, the accessibility of the work zone, the amount of standing water, and several other factors play a role in choosing the best extraction device. Some options include:
High-Pressure Pumps – When you consider the likelihood of water to migrate and collect in your home's basement, or when pipes burst on the second floor of the house, long-range pumps offer a greater lift. These units efficiently remove clean water from damaged areas without losing power.
Self-Priming Trash Pumps – Power is not always readily available after water disasters, making the management of this resource critical for our SERVPRO team responding to the situation. Self-priming trash pumps run on gas, meaning that more outlets and available electricity from portable generators are available for other tools.
Truck-Mount Extractors – These are the most powerful tools in our arsenal for removing water, and we can use these machines to extract at 300 psi. Thousands of gallons of water can get moved quickly, making these options ideal for widespread and severe loss incidents.
Why Do Repairs Happen Before Other Restoration Tasks?

Repairs must often occur before almost any other restorative actions occur because vulnerabilities continue to threaten the property otherwise. Breaches in the plumbing can continue to feed water to the damaged areas, and repairs also allow for the re-pressurization and restoration of the water service to the house.
While multiple actions describe water mitigation, this entire phase and stage of the restoration process is critical to saving customers time and money. No matter how severe damage might be in your home, you can count on the fast and experienced response of our SERVPRO of Skagit County team. Give us a call anytime that you need us at (360) 873-8744.