What Should I Do If my Home in Mount Vernon Has Burst Pipes?
11/7/2021 (Permalink)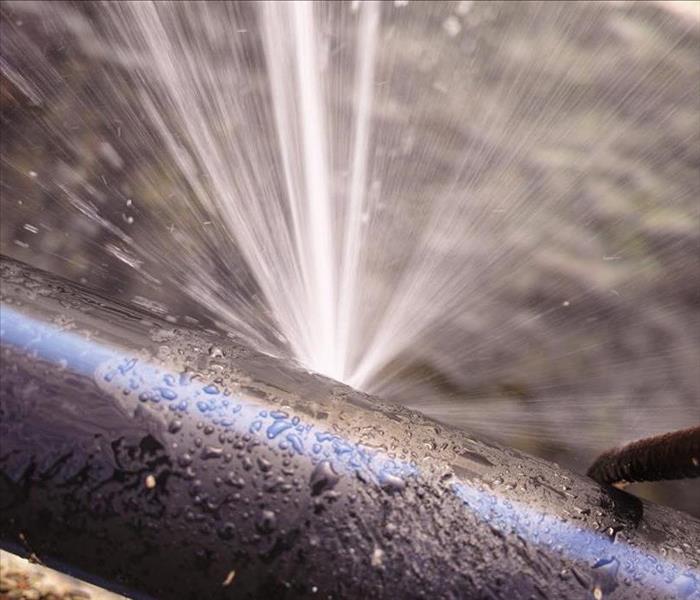 Burst pipes cause major water damage to your property. SERVPRO has the experience and technology for any size disaster.
SERVPRO Can Help with Water Removal Services in Mount Vernon
During the mid to late fall season, it is common to see problems caused by pipes breaking. During the first day of the season, where the temperature drops below freezing, it is possible that your house's pipes could freeze in sections where they are not insulated or they are not staying warm enough. Once the water inside the pipes freezes, it will expand and cause a hole in your waterpipes. Even a small quarter-inch crack can dump out hundreds of gallons of H2O in a short period.

Whenever our SERVPRO technicians conduct water removal in Mount Vernon, we start with the extraction process. Once water gets into your structure, the moisture will evaporate into the air and raise the humidity levels. The moisture will also start to soak into your building materials and contents, making them harder to remove. Therefore, it is best to remove the H2O from your house while it is still a liquid before it soaks into items in your home.
If your pipes burst overnight or perhaps when you were out of town, a large amount of water could have poured into your home. Once you notice a problem, it is wise to call in the professionals such as our SERVPRO technicians. We can arrive at your property 24/7 and help you out with the following:
Emergency Services for Water Damage
Repair Ceiling Leaks
Water Clean Up
Water Damage Repairs
Basement Flooding Clean Up
Depending on the situation, we can either use a portable extractor or a heavy-duty truck-mounted system during the extraction phase. We can also use various extraction tools depending on what surface needs water removal.
If you ever come home from a short trip after the temperature dropped below freezing, call SERVPRO of Skagit County at (360) 873-8744.