Some Tips to Help With Water Damage Remediation in Mt. Vernon
4/19/2020 (Permalink)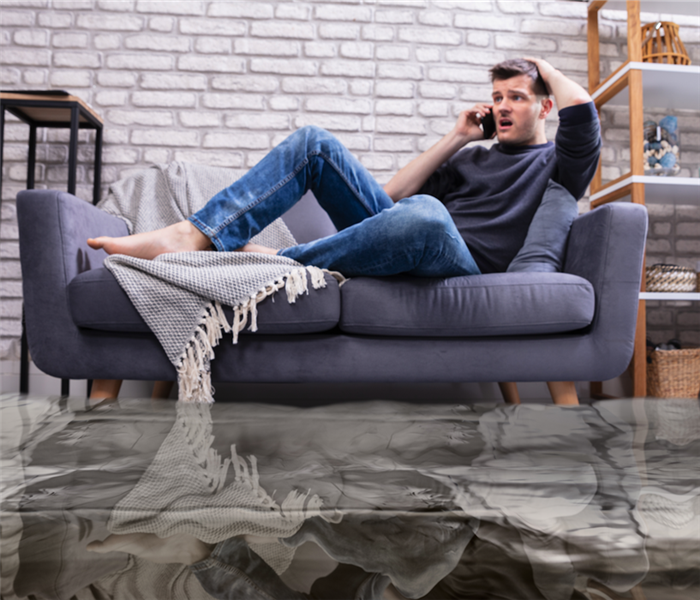 Trust your water damaged home to our SERVPRO technicians. We arrive quickly and make it "Like it never even happened."
What Can You do to Limit Losses When Large Bodies of Water Enter Your Home?
By contacting SERVPRO, you are reaching out to a Mt. Vernon team of expert technicians with training in all aspects of water restoration. You can trust us to get the job done honestly, on-time and on-budget.
How can I prevent a water emergency in my property?
While water spills can seem like a random event or an act of god, there are many things you can do to prevent the need or water cleanup in your Mount Vernon home. Conducting regular maintenance of your property can go a long way toward preventing water emergencies from occurring, and you should take special care during the fall or winter months to avoid a costly disaster.
What can cause water damage in my home?
Malfunctioning washing or drying appliances
Pipes with poor insulation, installation or age
Large amounts of rainfall or overflowing gutters
Sump pumps as well as crawl space vapor barriers
Human errors like leaving on faucets
Road overflow, flash flooding or other external events
What should I do in a water-related emergency?
Your safety is the priority, which is why you should call your insurance provider to check coverage and then a professional restorer to perform the cleanup. In some cases, you may be able to stem the flow of water, which can be vital. You can shut off the water supply at the source or unplug malfunctioning appliances to prevent more water from releasing into the home. Closing doors and sealing them using old towels or sheets can also help to prevent the migration of water while you wait for a SERVPRO technician.
How can you extract water from the home?
Moving water can be a challenging task that requires equipment with sufficient lift capacity as well as volume. Water can damage a Mt. Vernon home vacuum cleaner while different types of water, as well as where in the house it is, can influence the type of extraction you need. Most residential properties benefit from a combination of light and weighted extraction tools. Weighted extractors are suitable for fabrics or carpets, whereas lighter wand extractors are suitable for smaller spaces where there is limited moisture absorption.
How quickly can you extract water from the home?
The initial extraction phase is possible to complete within a day. More copious amounts of standing water that reach over two inches in height may take longer; however, by using electric submersible pumping equipment, we can remove a massive amount in a short period. SERVPRO trucks have storage tanks of up to 100 gallons for clearing away wastewater from residential properties. Usually, the extraction phase is significantly quicker than the drying stage, which takes more attention to detail and expertise.
Does water damage lead to mold growth?
Increases in moisture and humidity can lead to microbial growth issues. However, these issues are not an inevitable symptom of home with exposure to moisture. The critical factor in whether or not mold becomes an issue is a time. Mold colonies take around seventy hours to form. SERVPRO can apply safe, antimicrobial chemical products to your home during cleaning that can disrupt the stages of microbial growth. By preventing mold spores from moving through the stages of growth, we can focus on effectively drying the property and eliminating the issue.
Will the interior of my home dry naturally after a water spill?
In nature, water evaporates naturally. Natural evaporation occurs because there is air movement, temperature, and low-relative humidity in outdoor spaces. Your home is an enclosed space, which means there may be areas of the home that do not receive enough exposure to evaporating naturally. Commonly, the center of the room dries without too much input, however areas beneath furniture, wall cavities, crawlspaces, or hallways can dry slowly or become damp spots, which can lead to mold issues.
How can you dry the home thoroughly to avoid microbial growth issues?
By using a combination of various pieces of equipment and knowing the evaporation process inside-out, we can effectively dry your home. Evaporating water from wet surfaces raises the indoor humidity. With little air movement, evaporating moisture can form a barrier that slows drying at a surface level. SERVPRO uses air movement equipment in combination with dehumidification equipment and temperature to ensure that we create the optimal conditions for a reduction in drying times.
What can I use to measure dryness in the home?
Borescopes for cavities or areas that are challenging to reach
Moisture meters for walls, ceilings, and floors
Moisture sensors for testing moisture content inside materials
Thermal hygrometers to assess the relative humidity within the affected area
Thermal imaging cameras to assess water migration in cavities and floor spaces.
To test if your home is adequately dry or not, you can take humidity readings from an unaffected room of the house. This reading is your home's natural humidity, which means you can use it to measure the effectiveness of the drying setup. You may also need to use invasive measures to assess wetness within walls or other cavities within the home.
Overcoming water emergencies is challenging without the correct equipment, training, and qualifications. Contact SERVPRO of Skagit County at (360) 873-8744.