Helping Anacortes Homeowners Reduce Repair and Replacement Costs
11/22/2020 (Permalink)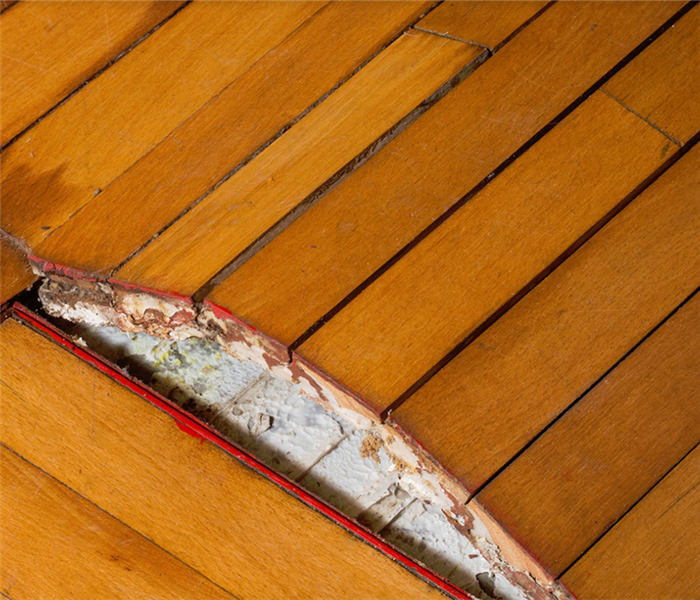 Facing hardwood flooring water damage? Contact our experienced SERVPRO water damage remediation team for services.
SERVPRO of Skagit County Restores Anacortes Homes When Property Owners Call (360) 873-8744
The West Coast island town of Anacortes, Washington, was incorporated in 1891 after settlers moved to Fidalgo Island to promote the location as a stop for the Northern Pacific Railway in 1877. Once railroad development began in 1888, real estate and the overall economy boomed but declined once the real estate bubble burst. The industries that have historically helped Anacortes thrive most are fishing, canning, and lumber processing.
Today, this idyllic island town is home to an estimated 17,000 people as of 2019. Its largest industries rely on oil refining, ship and yacht building, and tourism. Two of Washington state's five major oil refineries are stationed near the town, owned by Shell Puget Sound Refinery Company and Marathon Petroleum.
The location and Mediterranean climate in Anacortes allow for year-round enjoyment of a plethora of activities, which include:
Whale watching near the Strait of Juan de Fuca
Travel to the nearby San Juan Islands, including Cypress Island, which can easily be seen from Anacortes
Sailing, yachting, and other recreational boating activities
Enjoying several parks, such as Washington Park, Volunteer Park, Anacortes Community Forest North, and Cap Sante Park
Exploring scenic Mount Erie
Anacortes also derives a significant amount of its economy from providing residences for employees of Whidbey Island Naval Air Station in Oak Harbor.
The Evolution of Anacortes
Centuries before American settlers founded the town, people from the Swinomish and Samish tribes lived on Fidalgo Island. In particular, the Samish took advantage of the abundant cedar growth in the area to craft longhouses hundreds of feet in length. The most notable one existed on Guemes Island until well into the 1900s.
The name Anacortes is a neologism honoring founder Amos Bowman's wife, Anne Curtis Bowman. Before it was coined as such by settlers, the town was referred to as Ship Harbor. Bowman's vision for Anacortes was to turn the island locale into a "New York of the West." Unfortunately, this dream would lead to an economic downtown that preceded the nationwide economic recession in 1893.
Over the next several decades, however, the town would recover and thrive on the abundance of fish, lumber, and other natural resources available for processing and manufacture. Shell Oil and Texaco purchased land in the area to build refineries in the 1950s. While the ownership of these refineries changed hands over the years, petroleum remains a mainstay industry in Anacortes.
Anacortes is the hometown of several notable people, such as:
Animator and cartoonist Craig Bartlett, creator of Hey Arnold!
Television personality Jake Anderson, most known for his work on Deadliest Catch
Writer Richard Bach, author of such bestsellers as Jonathan Livingston Seagull
Olympic gold medalist and rower Donald Hume
Acclaimed singer Kathi McDonald, of The Ikettes and Big Brother and Holding Company fame
Fishing in Anacortes
Anacortes' island topography and proximity to the ocean means that fishing has been part of life for as long as humans have settled in the region. The San Juan Islands, including Fidalgo Island, is home to a diverse array of both flora and fauna, including the following fish and crustacean species:
Blackmouth salmon in the winter months
King salmon and spring chinook from late summer through autumn
Halibut and lingcod in spring and early summer
Dungeness crabs and prawns for crab and shellfish enthusiasts
While the Mediterranean climate in Anacortes is not ideal for ice fishing enthusiasts, winter fly fishing is common. One of the best spots for this pastime is easily Pass Lake at Deception Pass State Park on Fidalgo Island's southern tip. Many of the fish in the area are caught for sport and food, particularly the salmon and crabs. Fishing charters embark all year round in the region, and one-day fishing licenses are easy for tourists to acquire. Many charters even provide equipment and aid with cleaning and dressing catches so that guests can take them home.
Some of the best bait fishing locations include Lake Padden and Campbell Lake. Fly fishers may find the aforementioned Pass Lake to be a year-round source of quality fish. Cranberry Lake at Deception Pass is another popular fishing spot. Just south of Anacortes are even more lakes to explore for fishing opportunities. Fishing aficionados new to the area can benefit significantly from procuring a copy of Terry Sheely's Washington State Fishing Guide.
Can SERVPRO Restore Water-Damaged Hardwood in an Anacortes Home?
SERVPRO technicians perform water cleanup Anacortes with the affected materials in mind. This team's approach focuses on restoration over replacement when feasible. Fortunately, in many instances, hardwood flooring is salvageable with the help of industrial-grade tools and the Institute of Inspection Cleaning and Restoration Certification (IICRC)-accredited mitigation technicians.
Hardwood flooring undergoes the following to remove moisture and ensure that the subflooring underneath is clean and dry:
If the water damage is small in scale, individual planks can be removed for drying and reinstalled. In more widely affected spaces, rubber drying mats are utilized to suck water out with the vacuum hose on a portable or truck-mounted extraction unit
Planks that experience slight warping or cupping can be sanded and refinished as needed. In cases of extreme warping, cupping, or cracking, however, replacement is recommended
Water pooling in the subfloor can be addressed with a squeegee wand
Microbial growth is treated with EPA-registered biocides
Because hardwood floors, especially those with a vapor barrier sealant, tend toward being low evaporation surfaces, extra care during extraction makes drying with desiccant dehumidification and air movers more efficient.
SERVPRO of Skagit County leaves disaster-affected homes looking and feeling, "Like it never even happened." Homeowners in need of mitigation and restoration from certified professionals can call (360) 873-8744.