Professionals in Mount Vernon Give Fire Prevention Tips
8/20/2019 (Permalink)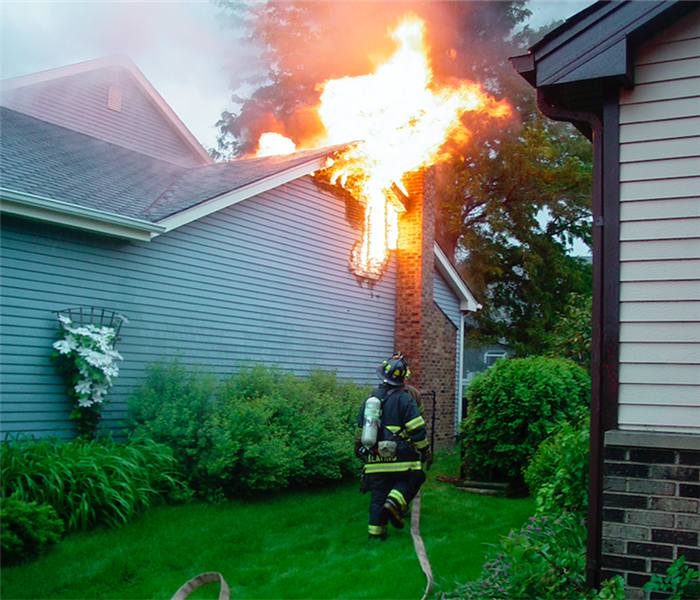 Fire damage can wreak major havoc in your home. Call the professionals at SERVPRO today for remediation assistance.
What You Can Expect from Professional Fire Damage Remediation in Mount Vernon
Thankfully significant residential fire losses are rare. When it happened in your Mount Vernon home, it can be a life-changing event. Successful recovery from fire requires a partnership with an experienced disaster response team. Our Institute of Inspection, Cleaning and Restoration Certification (IICRC)-trained managers and technicians have a solid foundation of fire mitigation and remediation theory, on the job experience, and state-of-the-art equipment that transform post-fire chaos to "Like it never even happened."
Water Damage Resolution is Job One
Because of the quantities of water used to limit your Mount Vernon fire damage our crews need to address that first. Water can be just as destructive to structural components and contents as fire, plus it is a major safety hazard. Slip and fall accidents and electric shock risks quickly decrease as the water evacuates. We are a full-service disaster recovery company making the transition from water to fire remediation seamless.
Secure Pack-Out Procedure for Contents
Fire damage mitigation and remediation are easier to accomplish if furnishings and personal possessions are relocated to our production facility. Our Contents Claim Inventory Service (CCIS) creates a digital listing of the affected property, very helpful when corresponding with your insurance company. Specialized contents technicians evaluate the packed-out items' conditions and recommend and implement efficient strategies to clean, dry, deodorize, and disinfect them.
Customized Soot Removal
Fire residues or soot are found not only in the immediate burn area but also in rooms and floors far away. Soot deposits on surfaces cooler than the smoke that carries it away on air currents or through HVAC systems. One fire can challenge SERVPRO technicians with several kinds of sooty deposits. Each kind needs cleaning products, tools, and methods to match its consistency.
Our IICRC-trained Fire and Smoke Restoration Technicians (FSRT) are uniquely qualified to customize soot removal. Dry, ashy soot vacuums and dry sponges away. Thick, sticky soot needs loosening with wetting agents and surfactants, with agitation to facilitate wipe off. Protein-based soot from kitchen fires spreads widely, smells strong, and might need abrasive tools and products plus agitation for removal.
SERVPRO of Skagit County has the tools, techniques, and training needed to clean up after residential fire damage. Contact us at (360) 873-8744 immediately after the firefighters release your home so we can assess, plan, and get to work.
Click here to see more about Mount Vernon.